ALTMAN – AN ORIGINAL EQUIPMENT MANUFACTURER
ALTMAN Power is a Hydro Power Turbine manufacturer, also capable of undertaking Hydro Electric Projects in EPC mode. We also undertake major Overhaul and Maintenance of Hydro Power Plants.
ALTMAN POWER is a preferred EPC company, engaged in Design, Supply, Manufacture, Erection, Testing and Commissioning of Electro Mechanical Equipment for Small Hydro Power Projects.
At ALTMAN we strive to create a niche for ourselves in the field of Small Hydro Power Sector in as a Turbine Manufacturer in India and overseas within a short span of time due to the unmatched quality and on time delivery of equipment offered to its customers.
Our Key Offerings :DESIGN AND TYPES OF TURBINES

FRANCIS TURBINE
KAPLAN TURBINE
PELTON TURBINE
Our Hydro Energy Solutions
OUR OFFERINGS
FRANCIS TURBINE

Francis turbine is an inward flow reaction turbine, which combines radial and axial flow concepts. In Francis turbines, water comes to turbine under immense pressure water and its energy is extracted by turbine blades. Power: 200 kW to 25000 kW Head: 20 m to 250 m Diameter: 0.2 to 2.0 m Maximum efficiency: 93%

PELTON TURBINE

Pelton turbine is a water impulse turbine. Pelton wheel extracts energy from impulse of moving water. Water flows along the tangent to path of Runner. Pelton turbines are widely used throughout the world for high head hydro sites and especially suited for very low flow. Power: 200 kW to 30000 kW Head: 50 m to 1000 m Diameter: 0.3 m to 2.4 m Jet: 1 to 6

KAPLAN TURBINE

Kaplan turbine is an inward flow reaction turbine, where water changes pressure, as it is moves through the turbine and give up its energy. Power is recovered from both Power: 250 kW to 20000 kW Head: 1.5 M to 38 M Diameter: 500 mm to 4500 mm


Standard Data
| | | | |
| --- | --- | --- | --- |
| Turbine Type | Kaplan | Francis | Pelton |
| Head [m] | 1.5-30 | 10-200 | 100-1000 |
| Flow [m3/s] | 1-50 | 0.5-20 | 0.1-10 |
RANGE OF TURBINE APPLICATIONS
Once the discharge and the net head are defined, an optimized calculations made allowing the choice of appropriate type and number of turbines that will generate maximum energy at minimum cost. ALTMAN offers following types of turbines ranging from 100 KW to 25000 KW per unit: The disposition is then according to the Hydrology Characteristics of site.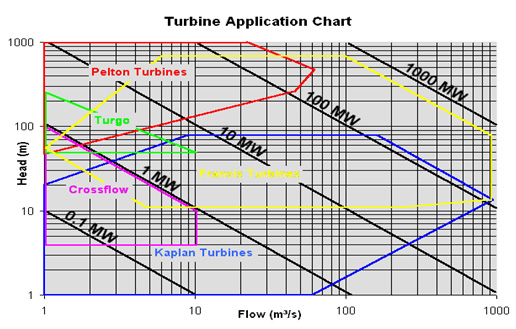 REFERENCES
Altman and associates having a long credential towards supply and services of different types of Hydro Turbine. We have executed the following projects:
Some references :
A. 2X50 MW KarbiLangpi.

B. 3X9.0 MW Jaldhaka Stage-I Hydel Project

C. 2X2.0 MW Massanjore Hydro Electric Project

D. 3X2.8 MW Umtru Hydro Power Project

E. 3X5.0 MW Valmikinagar Hydel Project

F. 1.75 MW Chaba Small Hydro Project

G. 2X6.3 MW Lower Lagyap Hydro Power Project